Prenatal / Postnatal Yoga
Yoga instructor certification (Level 1)
What You Get
We have smaller batch sizes, so we can provide personal attention to everyone in batch. If you are facing health issues, we have Medical Yoga Therapy with consultation with Dr. To make your Yoga moves better we have special Props.
Meditaition and Pranayam (Stress Management) session on every Saturday morning 7.30 to 9 AM.
Morning Batches : 7.30 AM to 8.30 AM and 8.30 AM to 9.30 AM
Evening Batches : 5.30 PM to 6.30 PM and 6.30 PM to 7.30 PM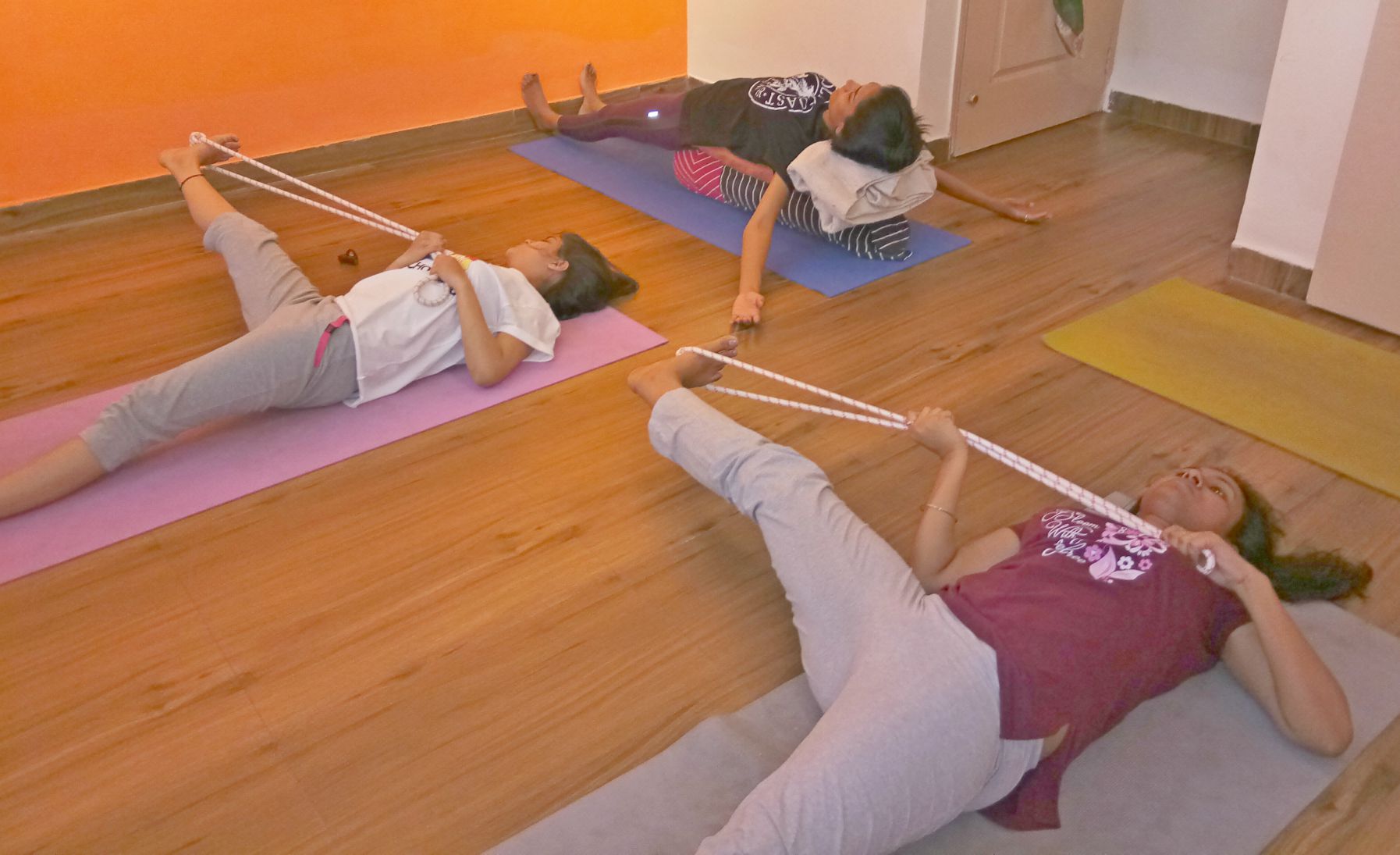 Traditional Yoga & Meditation
Yoga Asana

THERAPEUTIC Asana

Sun Salutation
Meditation and Relaxation
Pranayam
We provide Yoga Therapy for health-related issues
Physical health issues :
Cervical Spondylosis, Lumbar Spondylosis, Diabetes, Knee Pain, Asthma, Slip Disc, Sciatica Pain, Acidity / Indigestion, High Blood Pressure.
Mental health issues :
Depression, Obsessiveness, Hyperactive, Insomnia, Fear, Hypersensitive, Short Tempered, Impatiens.
Yoga Instructor Certification (Level 1)
This course will help develop knowledge, demonstration and instruction skills about traditional yoga practices as per syllabus designed by Ministry of AYUSH
Duration: 4 months | 12th Pass
Personalized and customized Weight Loss / Gain Diet program
Monitoring of weight every week
Mentoring
Nutrition Consultation
Nutrition Club – We will serve you Nutrition + Protin shake at our facility
Corporate Workshop & Seminar
Workshops on : Chair and Desk Yoga, Laughing Therapy, Breathing techniques to release stress, Improve decision making and positive thinking, Corrective Postures, Health awareness.

Personality Development , Concentration and Memory issues, Low Confidence level, Complex issues, Low performance level
Yoga Session for Kids suffering from Asthma – Glenmark
Yoga & health awareness sessions for Thermax employees
Yoga session on World Yoga day for Indigo Airlines employees
Chair & Desk Yoga Sessions for Accenture employees
Yoga sessions for MBA students- Indus Business School
Yoga sessions for TATA Motors employees
Health awareness program for Greaves Cotton Ltd. employees
Yoga sessions for School Teachers – Pumpkin Patch School, Wakad
Yoga Sessions for Kids – Orchid School, Baner
 International Yoga day session – College Of Ayurved And Research Centre, Nigdi
Yoga and Meditation sessions for employees – P N Gadgil Jwellers
Yoga, Meditation and Diet sessions for employees – Sequoia Energy, Bhosari, Pune
International Yoga day session – Hyatt Place, Hinjewadi
Yoga and Meditation sessions for employees – Emdet Engg., Chakan
International Yoga day session – KPIT, Hinjewadi
Yoga and Meditation sessions – Courtyard Marriot, Hinjewadi
We have evening batches for
This activities will help you to keep Fit and learn new skills.
Low cal. and rich with Calcium products made from "Ragi" are available.
Also Herbal and Ayurvedic juices (Karela Jamun, Aloevera, Wheat Grass etc,) available for healthy lifestyle.
Had a wonderful experience with her. Joined prenatal class, it was very relaxing and properly guided by Madhuri Ma'am. She is very supportive and an amazing guide. The ambience is also very calm and soothing.
I have been attending yoga classes since 4 months now and I have experienced huge transformation in my body interms of enery, stamina, flexibility, mental health and many more. We can learn all kind of yoga poses . It also helped to heal body internally. Great class and best teacher 
Very useful sessions to rejuvenate mind and body in daily hectic office routine. Content for sessions is very specific, easy to adopt for beginners. Alonwith my gym routine I found pranayama helps a lot for focused but calm mind.
A short literature, slides will help to remember sequence to be followed for different pranayama.
Overall great experience so far.
Thank you.
Address
B101, Nisarg City, Phase 1,
Kaspate Vasti,
Wakad, Pune 411 057
Take Care in this COVID-19 Pandemic
   We use cookies to offer you our services. By continuing to use this site you consent to our use of cookies as described in our Policy.