Which Yoga Institute / Center to choose?
Choose the institute where certified and experienced teachers are teaching
Should provide enough practical knowledge along with Theory
Resolve all your queries regarding the Asanas
Ample and hygenic space for classroom
Should have all Yoga related props for beginners
Safety measures should be taken while doing Yoga (no one should get hurt)
Always advise to consult doctor in case of health issues before starting Yoga and make changes in Asanas accordingly
If you are doing Teachers Training course , please make sure YCB (Yoga Certification Board) rules are followed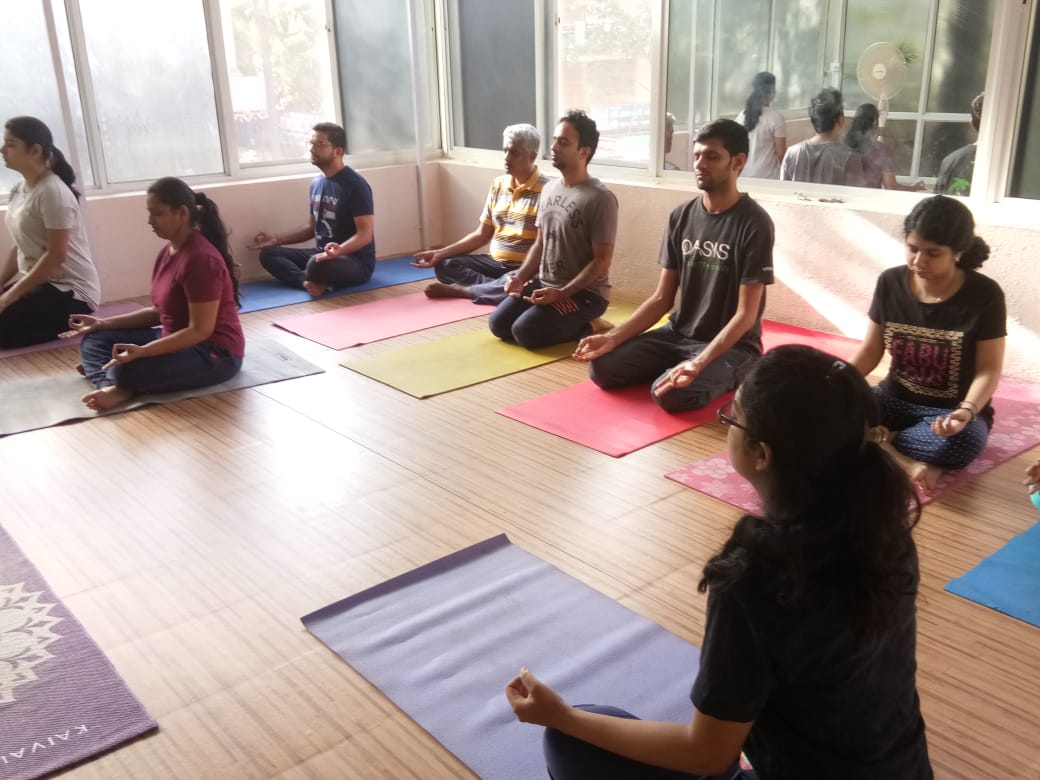 Now a days, because of COVID-19 situation, most of the institutes are taking Yoga classes and training online by video conferencing, which reduce your travel and saves time. Make best use of your Smartphone, Laptop or Desktop to stay Fit and Healthy.
Which Yoga course to choose?
There are 4 different courses one can do to become Yoga Instructor or teacher. See below the description of Certification courses from YCB.
YOGA VOLUNTEER (YV)
1. Name of the Certification: Yoga Volunteer (YV)
2. Requirement/ Eligibility: Open for all. there is no eligibility criteria
3. Brief Role Description: For promotion of well being of oneself and society at large; assist in conducting group classes for Yoga Volunteer, Yoga classes in the park, Yoga related IDY programs. Can be part of Fit India Movement. Can conduct Yoga Break protocol in work places.
4. Minimum age: Upto 75 years
5. Duration of course:Equivalent to not less the 36 hours.
6. Syllabus:The institute shall impart knowledge and practice on the following topics
-As per Common Yoga Protocol prepared by Ministry of AYUSH for International
Day of Yoga along with Neti, Tratak, Ujjaye Pranayam.
-Classes related to life management and preventive health.
7. Certification of Yoga Volunteer: The candidate who has 80% attendance in the class shall be eligible for certification. Certificate to the candidate shall be issued after getting the report from the institution about the attendance of the candidate and the program conducted.
LEVEL 1 – YOGA PROTOCOL INSTRUCTOR
1. Name of the certification: Yoga Protocol Instructor (YPI)
2. Requirement/ Eligibility: 
a. For open candidates there is no eligibility criteria
b. For admission in the course it is suggested/ desired that the candidate should have passed 10th standard / secondary school certificate from a recognized board or equivalent. However, the Yoga Institutions can define their own eligibility
3. Brief Role Description: Certified Yoga Professionals (Yoga Protocol Instructor) can teach basics of Yoga / common Yoga protocol developed by the Ministry of AYUSH for International Day of Yoga for prevention of diseases and promotion of health. They can conduct Yoga practice /classes in parks, societies, RWA etc.
4. Minimum age: No age limit
5. Personal Attributes: The job requires individual to have good communication skills, time management skills and ability to understand the body language of the trainees. The job requires individual to possess key qualities such as self discipline, confidence, maturity, patience, compassion, active listening, time management, empathetic, language
proficiency.
6. Duration of course: Not less than 200 hours or not less than 3 month as part time or not less than 1 month as full time course.
7. Mark Distribution: Total Marks: 200 (Theory: 60 + Practical: 140)
LEVEL 2 – YOGA WELLNESS INSTRUCTOR
1. Name of the certification: Yoga Wellness Instructor (YWI)
2. Requirement/ Eligibility:
a. For open candidates there is no eligibility criteria
b. For admission in the course it is suggested/ desired that the candidate should have passed 12th standard / higher secondary school certificate from a recognized board or equivalent. However, the Yoga Institutions can define their own eligibility
3. Brief Role Description: Certified Yoga Professionals (Yoga Wellness Instructor) to teach Yoga for prevention of illness and promotion of wellness in schools, Yoga studios, work places, Yoga wellness centres/ Primary Health care centres etc
4. Minimum age: No age limit
5. Personal Attributes: The job requires individual to have good communication skills, time management skills and ability to understand the body language of the trainees. The job requires individual to possess key qualities such as self discipline, confidence, maturity, patience, compassion, active listening, time management, empathetic, language proficiency.
6. Duration of course: Not less than 400 hours or not less than 6 month as part time or not less than 3 month as full time course.
7. Mark Distribution: Total Marks: 200 (Theory: 60 + Practical: 140)
LEVEL 3 – YOGA TEACHER AND EVALUATOR
1. Name of the certification: Yoga Teacher and Evaluator (YTE)
2. Requirement/ Eligibility:
a. For open candidates there is no eligibility criteria
b. For admission in the course it is suggested/ desired that the candidate should be graduate in any stream from a recognized University or equivalent. However, the Yoga Institutions can define their own eligibility
3. Brief Role Description: Master Trainers in Yoga educational Institutions, Yoga training Courses and training programs. He or she can also act as Evaluator and assessor of Yoga professionals. Can teach in studios, Institutions, colleges/ universities/ Institutions of higher Learning.
4. Minimum age: No age limit
5. Personal Attributes: The job requires individual to have good communication skills, time management skills and ability to understand the body language of the trainees. The job requires individual to possess key qualities such as self discipline, confidence, maturity, patience, compassion, active listening, time management, empathetic, language proficiency, engaging with students, dedication to teaching, ability to build caring relationships with students, friendliness and approachability, independent, credible, analytical skills etc.
6. Duration of course: Not less than 800 hours or not less than 15 month as part time or not less than 9 month as full time course.
7. Mark Distribution: Total Marks: 200 (Theory: 60 + Practical: 140)
If you need all information about Yoga Courses, Reference Material, useful information and link, mock tests for Yoga exam, please visit our website https://sungraceyoga.in/
Products you may require for YOGA